To stake ICP utility tokens, you'll first need to buy some ICP. If you were a seed-round participant, you can check out How-To: Claim neurons for seed participants for further instruction on how to claim your neuron. Otherwise, you can buy ICP at any one of these exchanges:
Once you have purchased ICP, you're ready to stake tokens using the NNS dapp.
Click here to see a demo video of Internet Identity, while below the steps to get started with your own internet identity are described.
The quickest way to create an identity anchor is to navigate directly to the Internet Identity dapp. Here, you will be welcomed with a screen prompting you to enter your identity anchor. If you are just getting started, then you need to create an identity anchor by selecting Create an Internet Identity Anchor.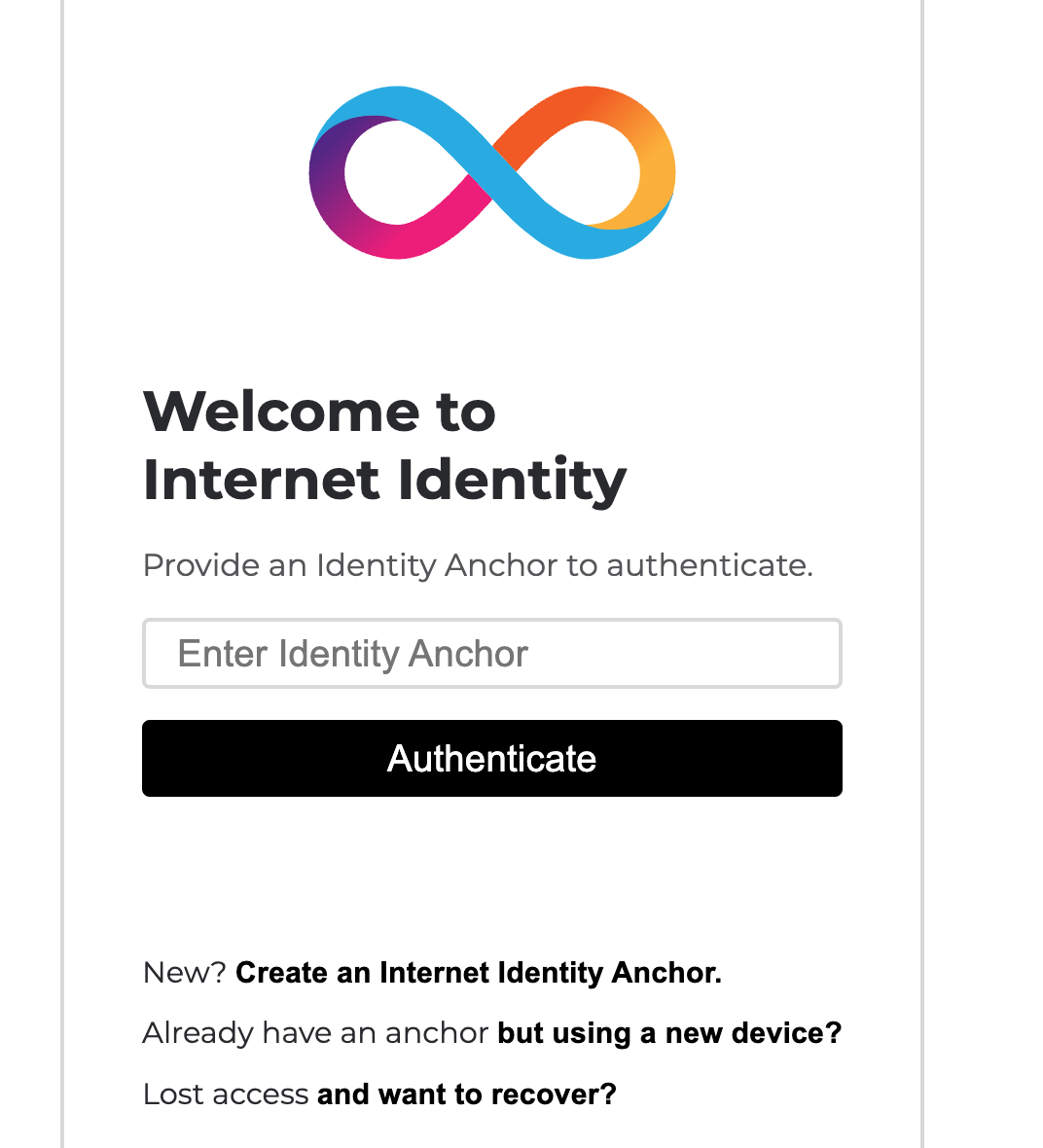 You'll need to provide your device name, then click Create.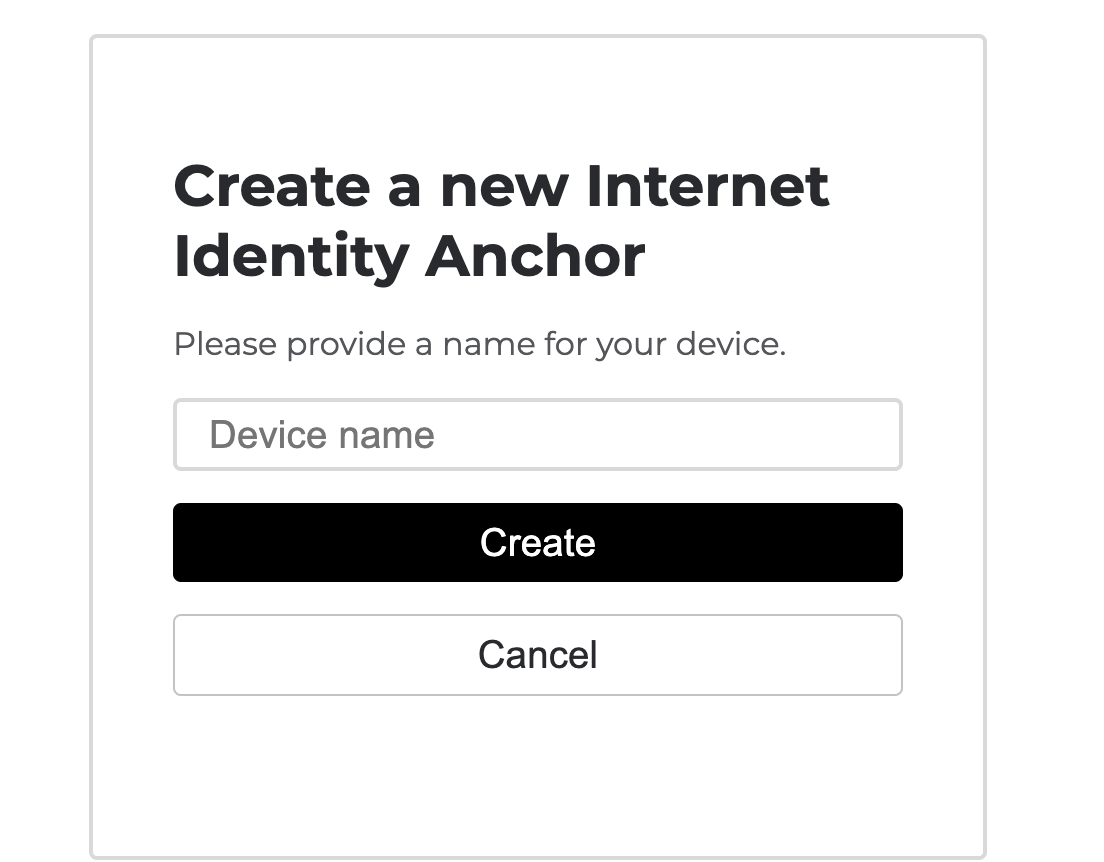 Upon entering the device name, your device will prompt you to allow "identity.ic0.app" to use either a dedicated security key, or with an authentication method of the device you are using. Once you grant access, you will be redirected to solve a captcha and be prompted to choose an account to sign into.
If you are registering for the first time you can select to sign in with the Passkey (which was generated and is stored on your device) otherwise you can choose to sign in with an external security key. After that, you will be redirected to a screen which displays your newly created identity anchor! We strongly suggest you record your identity anchor number. This is the number that you will need to enter to authenticate to dapps running on the IC.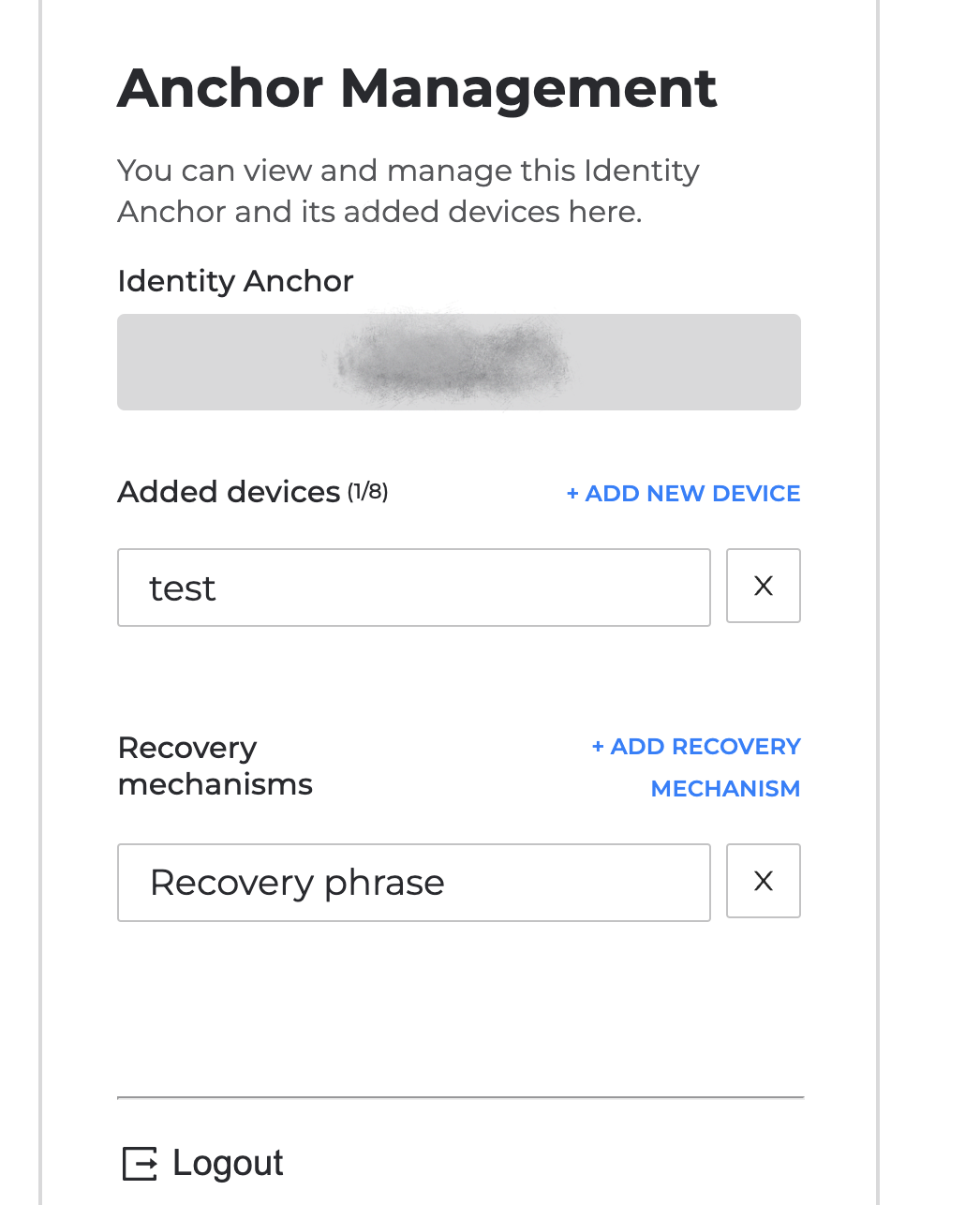 Once you have registered an Internet Identity you can head over to the Network Nervous System (NNS ) dapp. The Network Nervous System dapp is the staking/voting system that governs the Internet Computer Protocol.
To log in, verify your Internet Identity Anchor number and click on "Authenticate".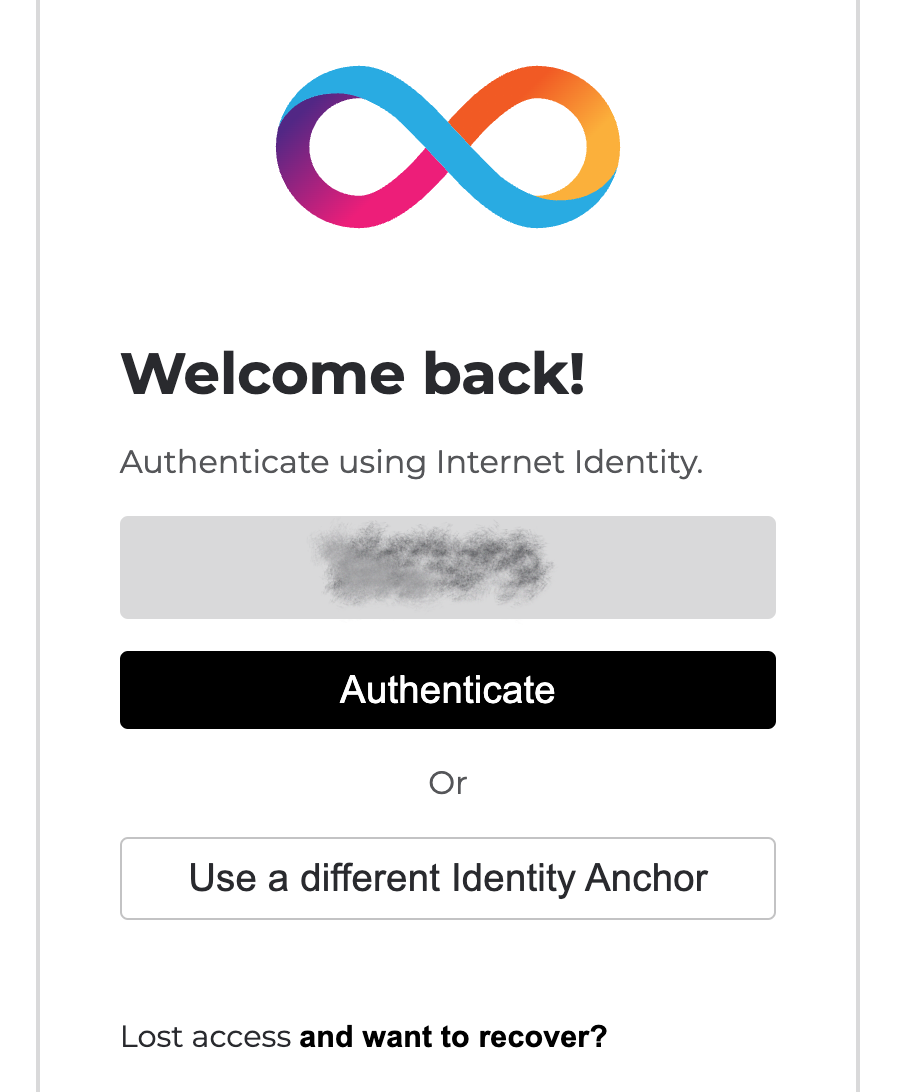 After authorizing, you have successfully logged into the Network Nervous System (NNS) and created your NNS account. On the main screen, you should see a long number called "wallet address" and the total amount of ICP on your account. The "wallet address" is the number you need to use to transfer ICP token to your NNS account. Check out this article on the Internet Computer Wiki for more information on ICP Custody with the NNS dapp.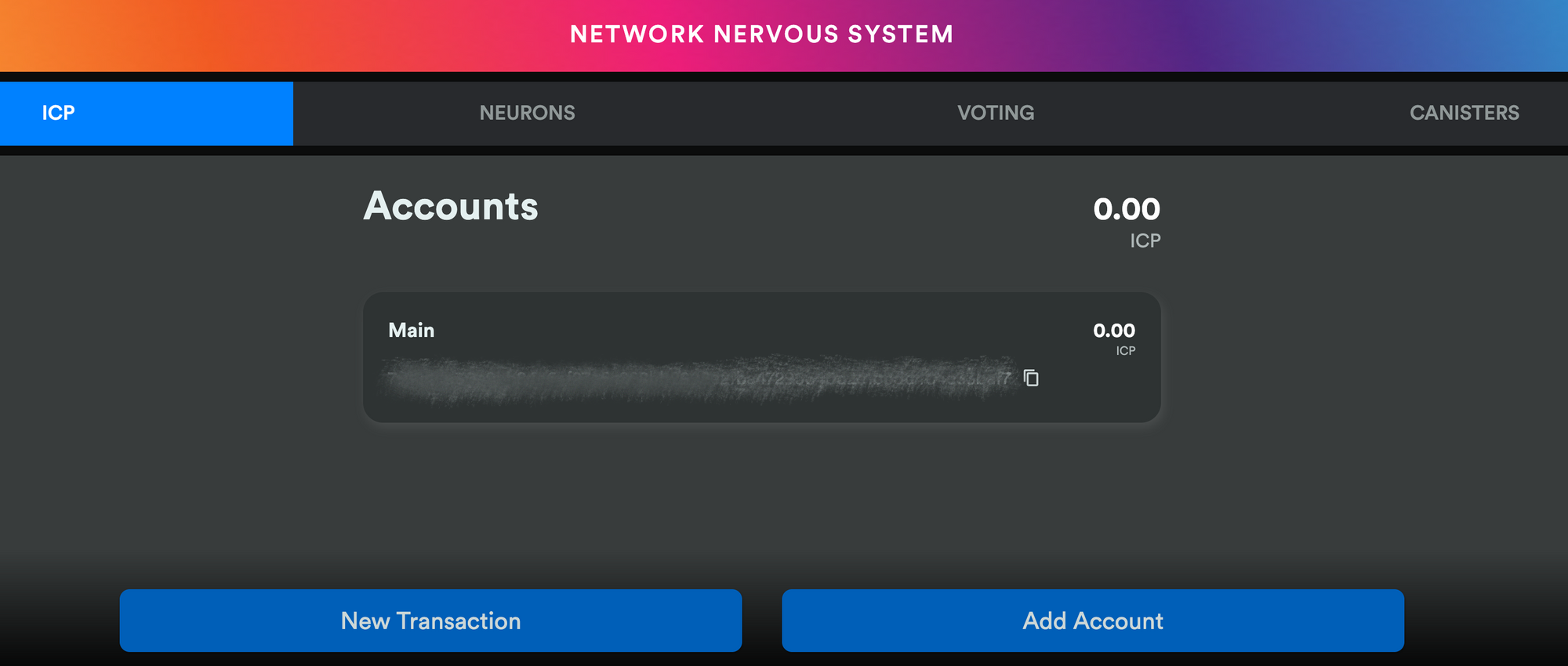 Once on this page, you should be able to go ahead and add ICP to your new NNS account!
If you have at least 1 ICP on your NNS account, you're eligible to create a neuron and stake ICP for rewards. You can use the Network Nervous System dapp to create and manage neurons, vote on proposals, and create canisters on the Internet Computer.
Neurons are required to participate in governance and earn rewards. To create a neuron, you must lock up some number of ICP utility tokens for a period of time. The minimum stake required to create a neuron is one ICP utility token. You can configure the period of time the stake is locked from six months up to a maximum of eight years.
From the main page of the NNS dapp, click on the Neurons tab and click Stake Neuron.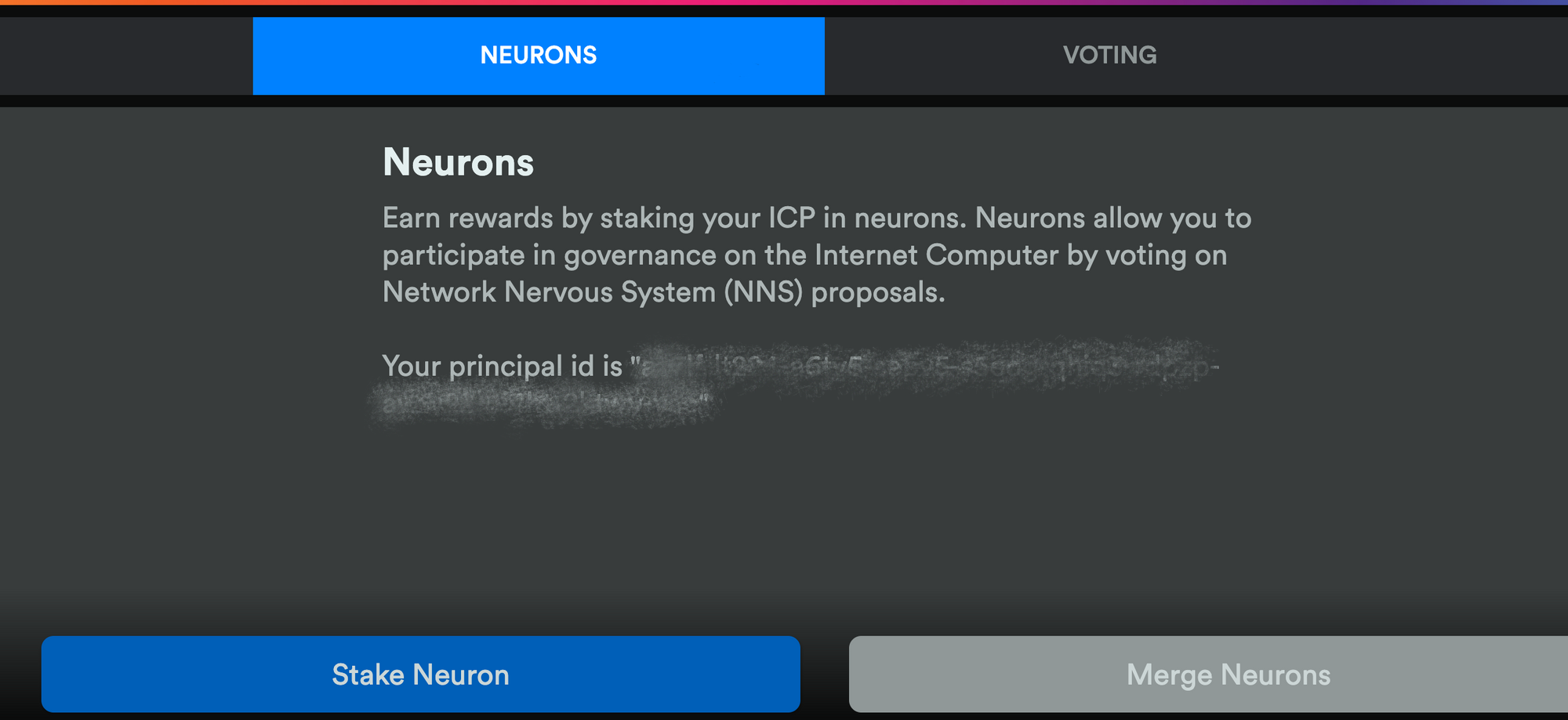 Type the number of ICP utility tokens to stake, then click Create.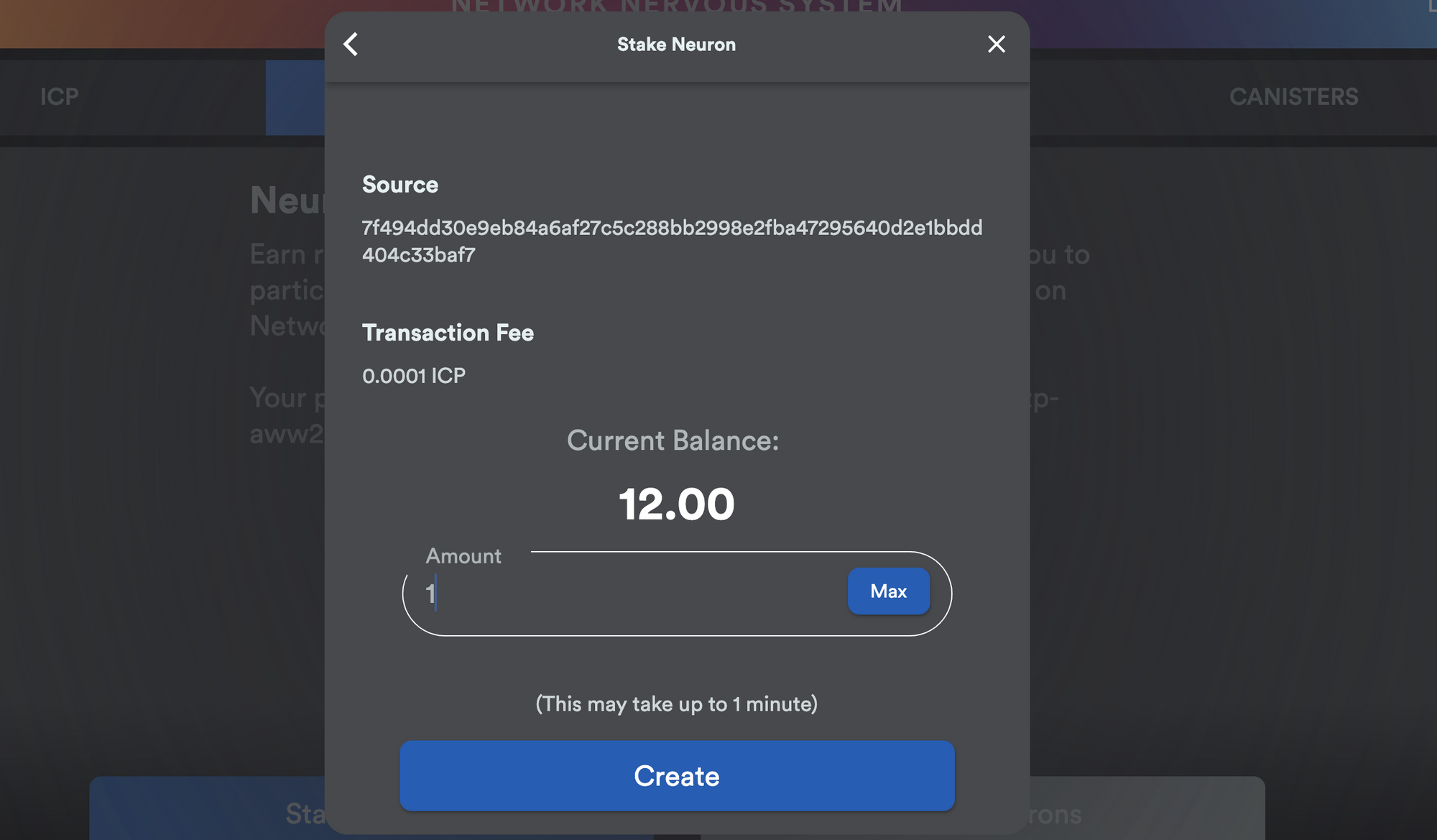 Set the dissolve delay to your preferred years of stake, and click update delay and confirm it. You can learn more about staking and dissolve delay here.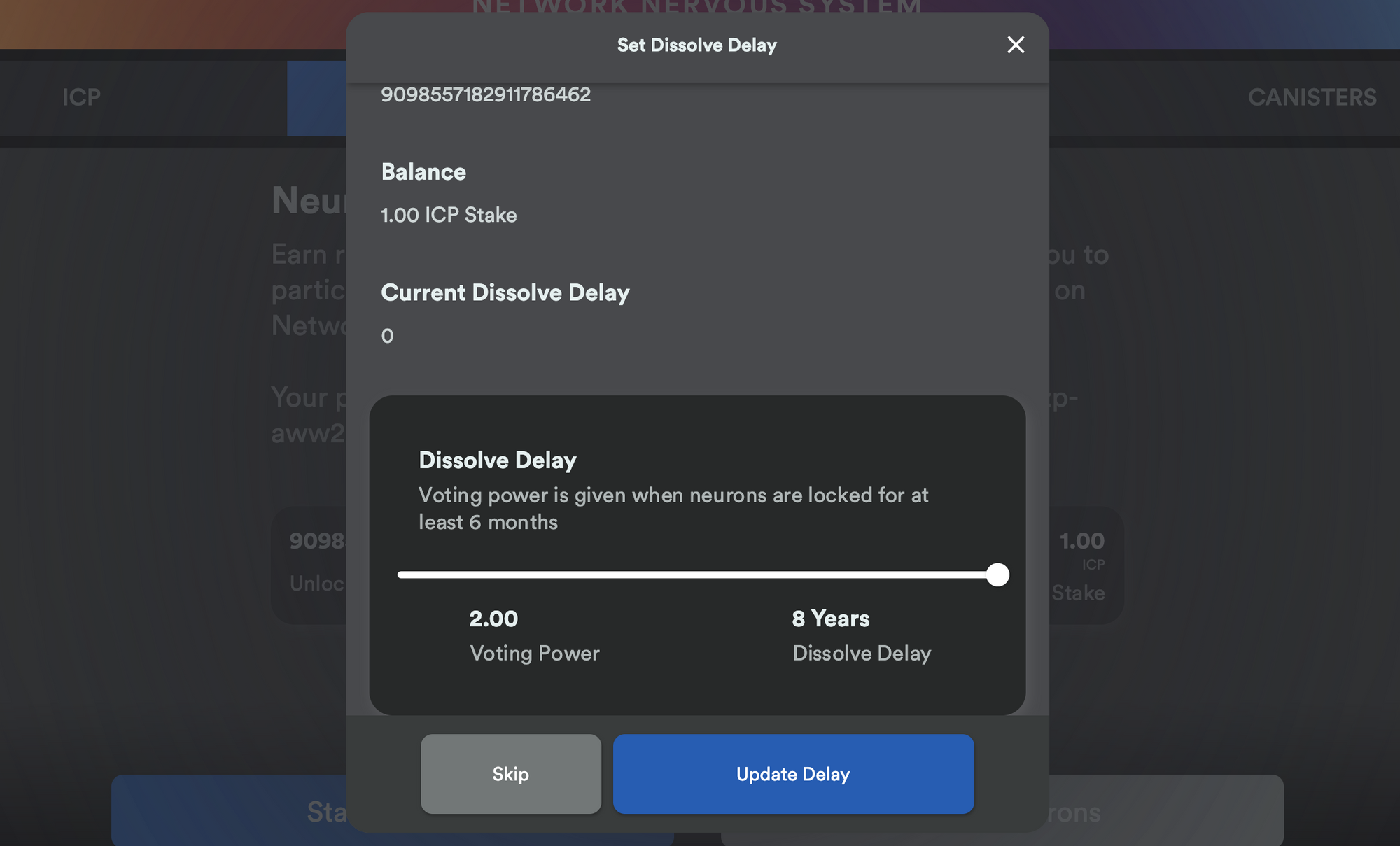 Afterwards, update and confirm once more to successfully create a neuron and vote on proposals. Once you have locked the stake and created a neuron, you'll be able to:
Start the dissolve delay timer by clicking Start Unlock
Increase the dissolve delay period by clicking Increase Dissolve Delay
Stop the dissolve delay after starting the unlock countdown by clicking Lockup
Increase the number of ICP utility tokens you have staked.
Check out this Internet Computer Wiki article on ICP staking with NNS dapp for more information on how to manage your dissolve delay.
In order to earn voting rewards, your neuron needs to vote on proposals. You can choose the proposal types and topics that you see and vote on—either directly or by following other neuron stakeholders—using filters in the Network Nervous System dapp. You can still vote manually on any proposal even when you are set up to follow another neuron. When you cast your manual vote, you override the vote following feature for that proposal.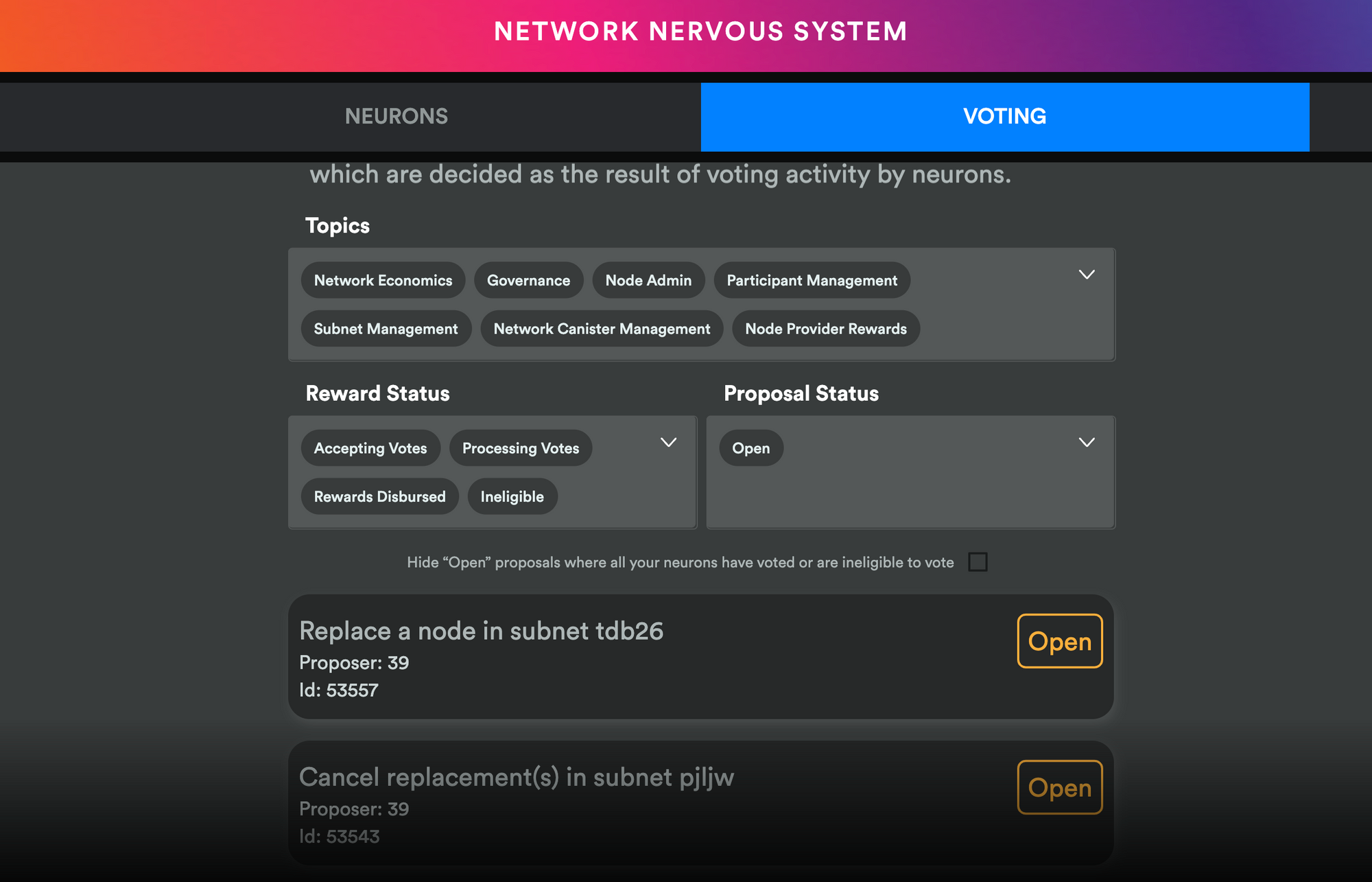 You can use the Voting tab of the NNS to manually see and vote on various proposals. You can click any of the proposals listed to view information about the proposal, including a brief description of the proposal, a link for viewing additional information about the proposal, the number of votes that were cast to adopt or reject the proposal, and the votes cast by your neurons. Be sure to use the Topics, Reward Status, and Proposal Status to filter out which proposals you'd like to see and vote on.
Click any Open proposal to see its details and the voting power for the neurons associated with your identity. Select the neuron identifiers with voting power that you want to use to cast your vote, then click either "Accept" or "Reject" to cast your vote. For more information on voting and voting rewards, check out Earn Substantial Voting Rewards by Staking in the Network Nervous System.
Updated