Page Index
This support article is meant to help you through the Grant application submission process. To read more about the DFINITY Developer Grant Program, please visit our announcement page.
Step 1 - Navigate to the Grants Application
The DFINITY Developer Grant application is located at http://dfinity.org/grants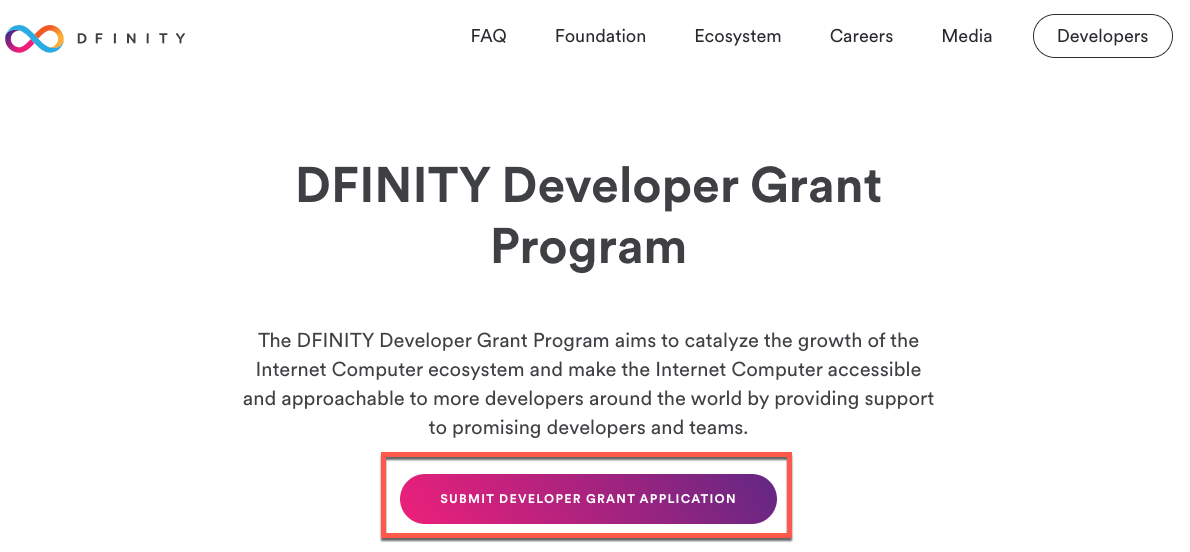 You will find yourself on a landing page which introduces you to the program. Feel free to read the page and familiarize yourself with some of the other projects which have gone through the grants process. When you're ready to submit your application; press the Submit Developer Grant Application button.

This will navigate you to the grant application form where you can read more about our grant application guidelines, or you can proceed to submit your application. To proceed, press the Submit button.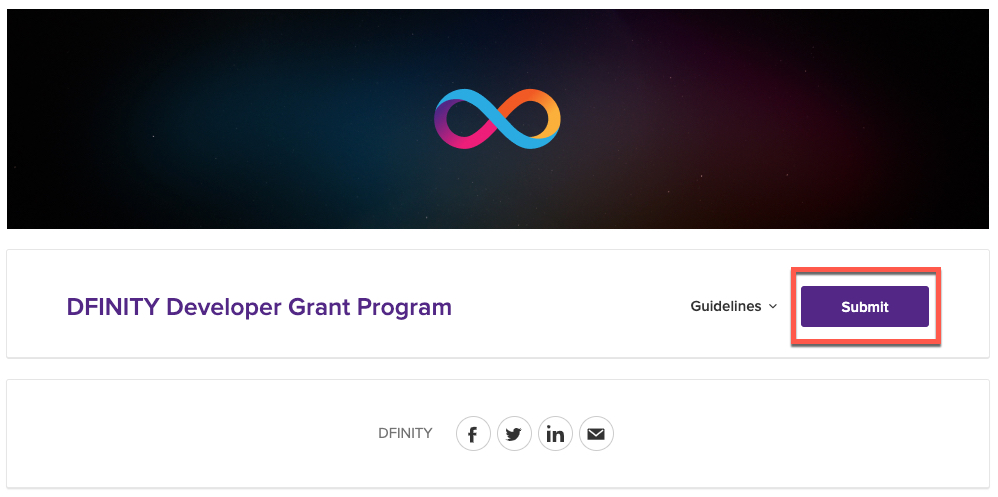 Step 2 - Register
Next, you will be prompted to either Sign In or Sign Up. Assuming this is your first visit to the Grants application page, you will need to sign up for an account. Signing up allows you to save drafts of your application, revisit a submitted application, and view your application's process.
Go ahead and register.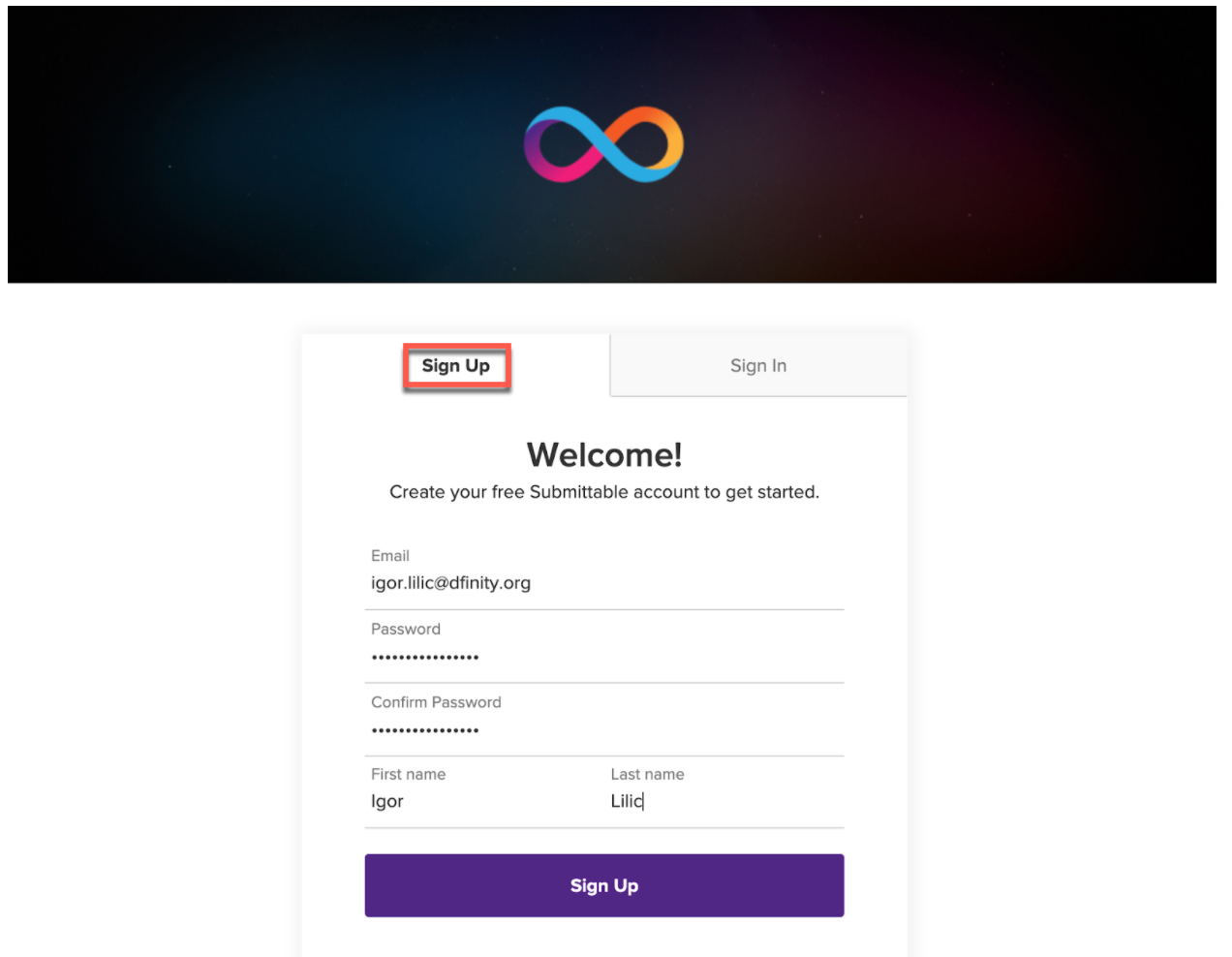 Upon registering, you will be presented with the Grant application guidelines. Please read these guidelines carefully as they detail the expectations for the grant application process.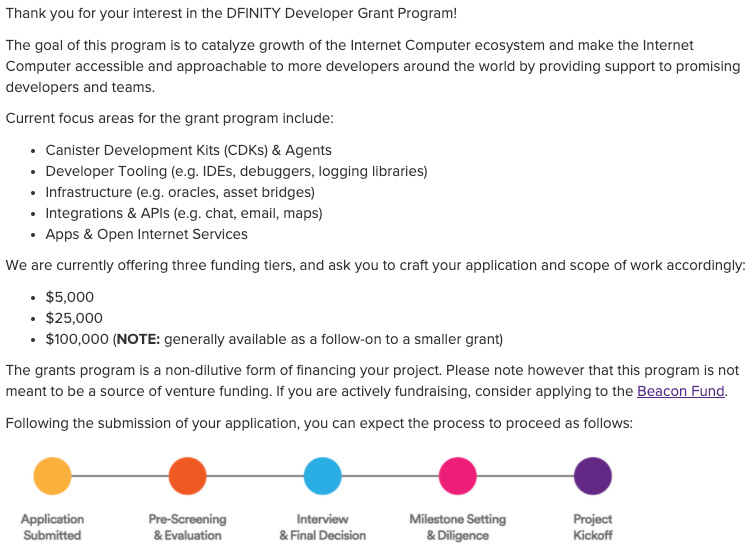 Along with the guidelines, there will also be an eligibility quiz. Please note that we are unable to disburse grants to individuals and teams under the age of 18 or to those applicants who are residents, citizens, or located in a geographic area that is subject to sanctions or embargoes.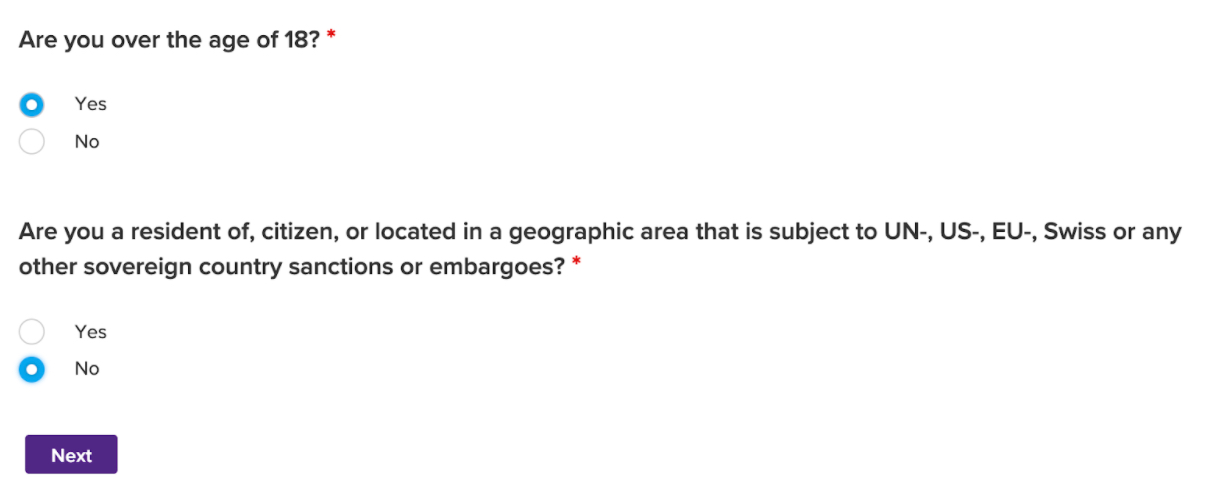 Step 3 - Your Application
We have worked to try and make the application process as straightforward as possible. If you have a question about the grant application process itself, please contact our support team by creating a ticket at http://support.dfinity.org/. All technical issues related to your application should be directed to Submittable. Technical issues might include uploading a file, logging into your application, issues with messaging and notifications, changes to your account, or application duplication. You can find helpful support videos and submit your issues here.
Basic Details
The first section of the application covers basic information.
Lead Applicant Name

: The lead applicant is the single individual who will be responsible for the grant lifecycle. They will be the main point of contact between the grant team and the DFINITY Foundation.

Email Address

: The main contact email address for the lead applicant. Do note that correspondence about the grant application will occur via email (which will also be available as messages in the Submittable platform), and it should be checked regularly in order to receive updates.

Project Name

: A name for the grant application. This can be any name and does not have to be the name of the final product (project code names are perfectly acceptable).

Region

: In which region of the world is the lead applicant located?

Individual or Team

: Is this application a single person effort or will multiple people be working on it?

Github IDs or Equivalent: Please provide the Github Ids of all members of the project team. If members do not have Github Ids, then LinkedIn Ids are preferable. Please note if you do not provide some reference to either Github or LinkedIn, it will be harder for the review team to evaluate the team's credentials and track record of successful projects.

Project Website: If there is a website (landing page or canister URL) for the project please provide it.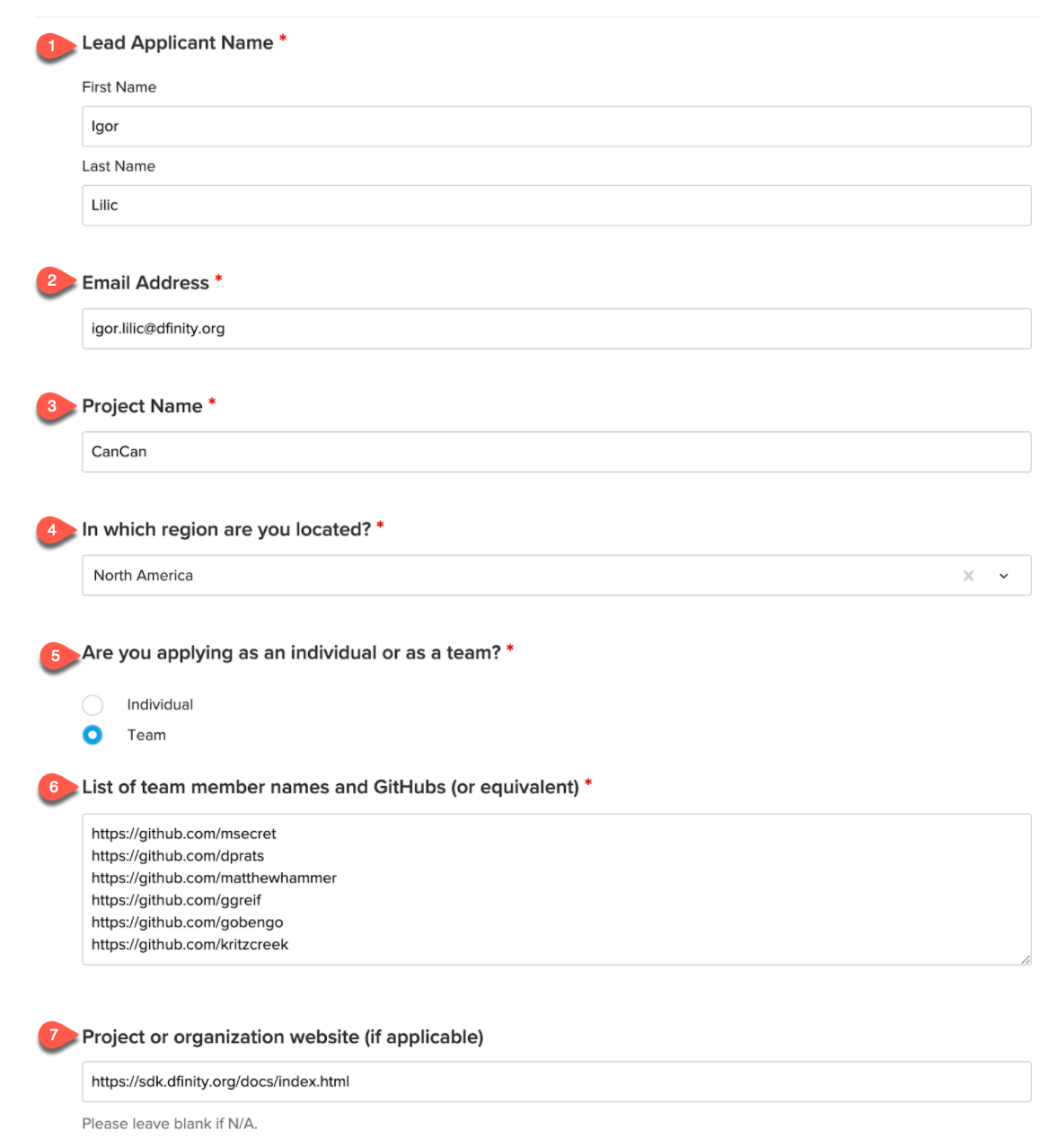 Grant Details
Grant Category: Please choose which category your grant falls under. Categories are:
Canister Development Kits (CDKs) & Agents

: This category is for developer focused tools specifically targeted towards the goal of making it easier to build on the Internet Computer. Canister Development Kits enable developers to build canisters in their (Wasm compatible) language of choice. Agents enable developers to build front ends for canisters in any language of their choice.

Developer Tooling

: This category is for all other developer focused tooling which doesn't fall under the CDK/Agent category. Examples include: REPLs, linters, IDE plugins, etc.

Infrastructure:

This category is for platforms which enable developers to deploy their IC based applications and workflows more easily. Some examples include: Hosting services, canister lifecycle management, block explorers, etc.

Integrations & APIs

: This category refers to projects which provide integrations or wrappers for existing services. Some examples include: Maps APIs, Oracles, Price feeds, etc.

Apps & Open Internet Services

: This category refers to end user applications. CanCan is one such end user application and is the reference for this article.

Other

: If your application covers a category that is not specified above, please choose other and let us know how you would categorize the project.

Describe Your Project: This is a free flowing field where you are able to describe your project in your own words. Let us know what it's about, what inspired you to propose the idea, and how you view your project coming to life.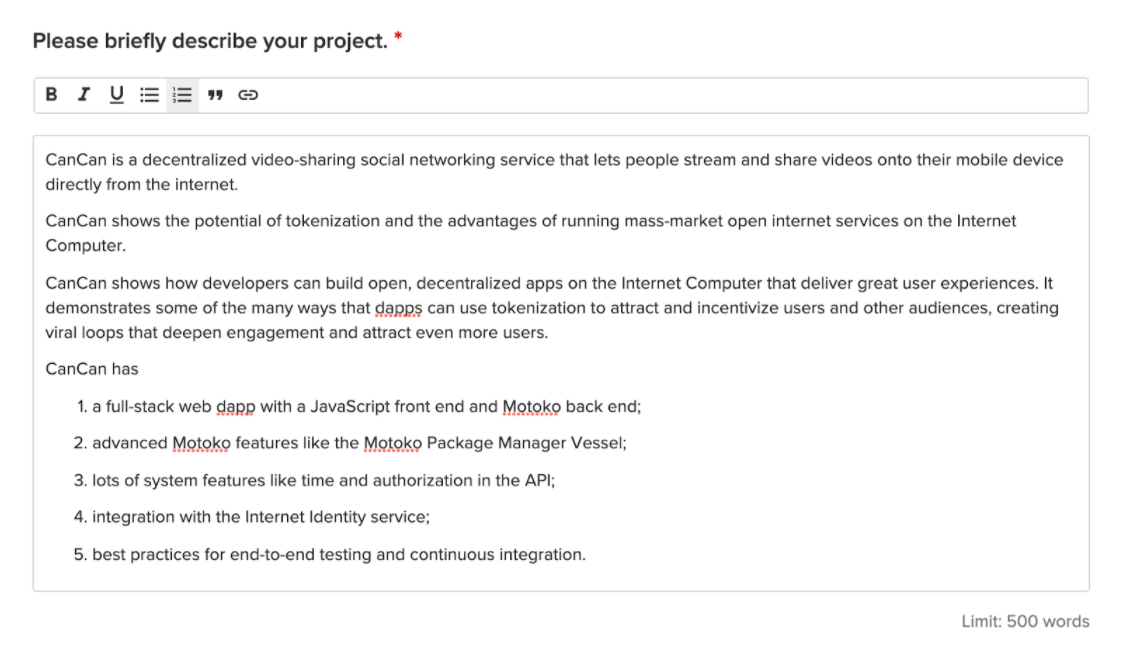 Grant Size: The Grant Program has three sizes of grant funding (USD amounts):
It's up to you to decide how much funding you will need in order to realize the goals of your project. However, do note that the grants review process will scrutinize proposal amounts and compare the requested amount to the project submission and proposed milestones. The higher the proposed funding amount, the greater the bar is for quality of submissions. A low effort proposal requesting a maximum grant amount has a very high likelihood of being rejected.

Already Started?: If you've already started your work, please provide us a link to the repository or to the live canister URL. Projects that haven't yet started will not be penalized as a part of their grants proposal, this is more of a nice-to-have for the reviewing team.

Milestones: This is potentially the most critical section of your grants application and can make or break many proposals. The milestones should be clear, concise, and technically oriented. Scoping milestones into small, deliverable chunks is very important. Remember, the grants process is not intended to be a venture funding tool, but rather financial assistance to make progress towards building a solution on the Internet Computer. Milestones that are too far in the future are not useful for the proposal. Similarly, milestones that are too vague do harm to your application. Spend effort to break down your work into smaller sprints. Take some time to work on your project before submitting your application to understand how long certain features may take in order to have a clearer understanding of your scope.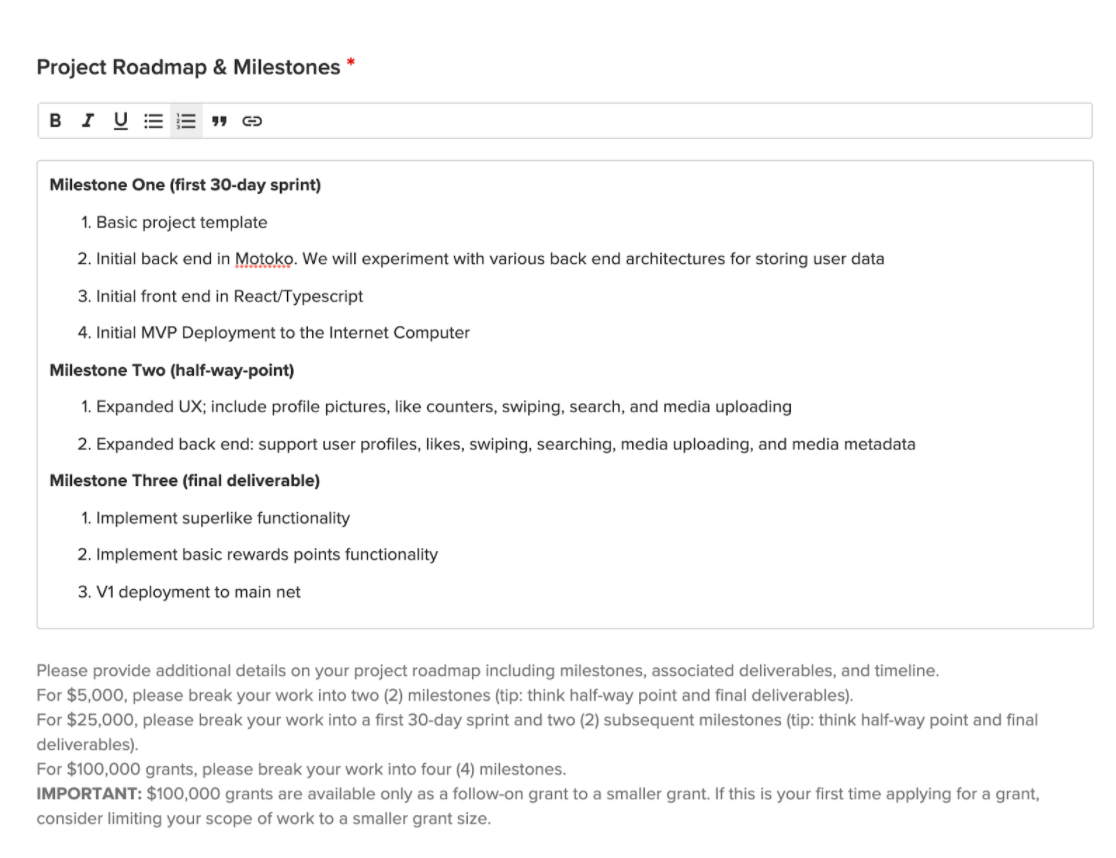 Referral: How did you discover the grants program? Please provide a reference.

Team Dynamics: If you're working with a team, please let us know a little bit about the team's experience and how the team will be working together on the project.

Supporting Documentation: If you have any mockups, designs, prototypes, or anything else that will bring clarity to your application; please upload it. There are many different acceptable file types; you may upload up to 5 files.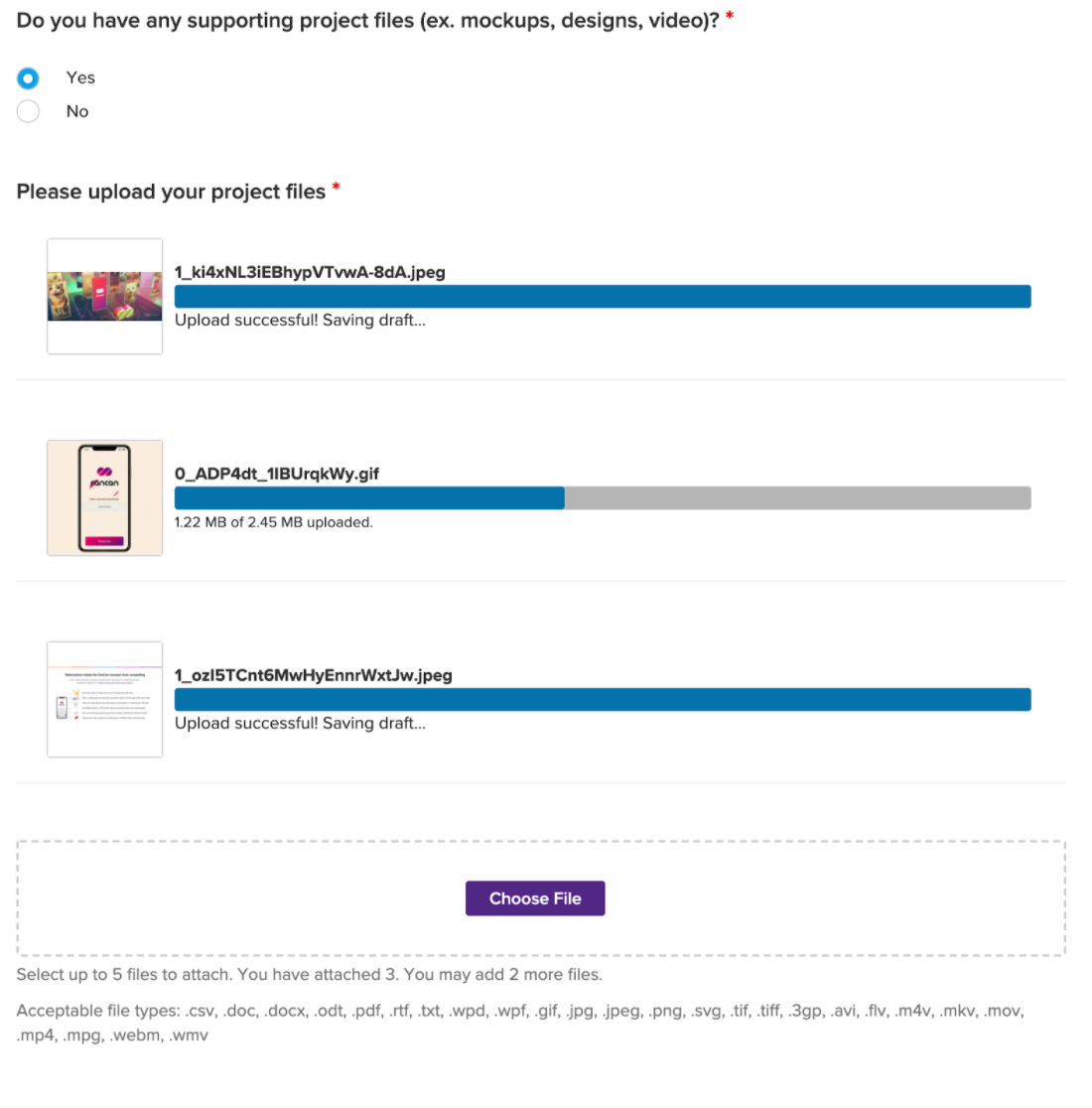 Open Sourcing & Monetizing: Please let us know if you have plans to open source or monetize your project. While the review teams will not penalize applications which are closed source; we may ask you to consider whether parts of the project may be able to be released under open source licenses so that the broader Internet Computer community can benefit from the fruits of the grant program.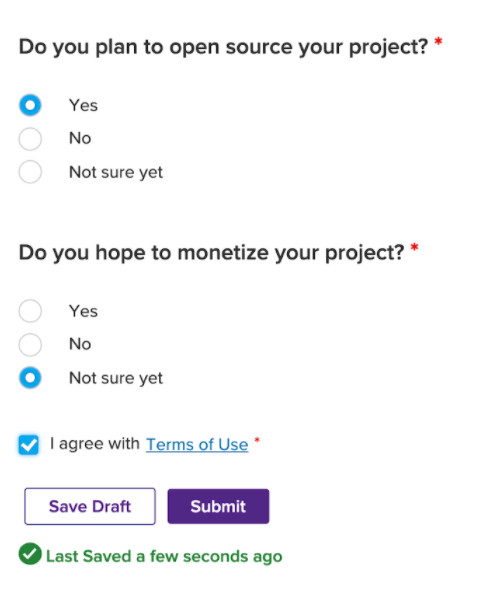 That's it! You've successfully submitted your application. If you'd like to read the Terms of Use you can find them here.
You can expect to hear back from the grants review team within two weeks of submitting your application. Thank you for your consideration! We look forward to building with you.
Updated